Don't Be Evil(?)
crystal balls, surveillance aesthetics, and gastronomies of the eye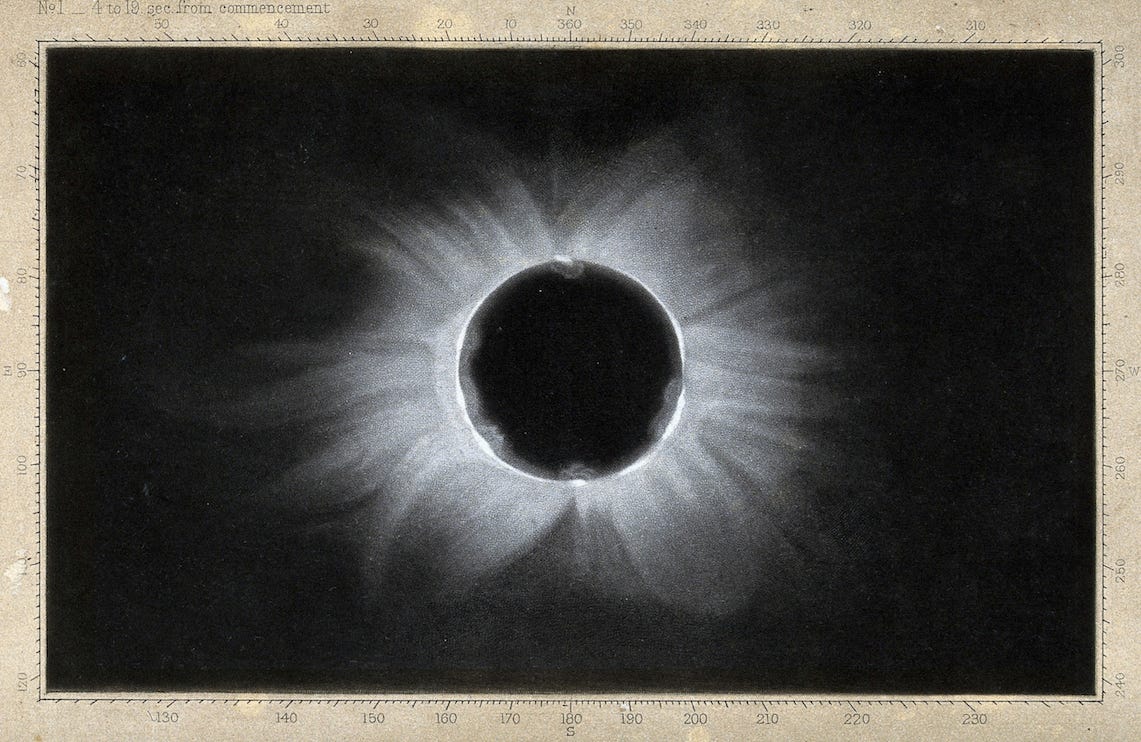 Last week, the screens adorning a Times Square skyscraper went dark. It was a celebration: Palantir, the company best known for providing the data analytics behind ICE deportations, was going public. The name of the company—derived from the palantír of the Lord of the Rings series; that all-seeing, ever-present stone wielded by the corrupt Saruman—scrolled in austere lettering up the side of the building. Its orblike logo blinked out against the black. 
The day before, a report from BuzzFeed News had described, in close detail, the Los Angeles Police Department's use of Palantir's "Gotham" software, which swallows up reams of data and spits out profiles of individuals—organized by tattoos, scars, and relationships; attached to surveillance clips and license plate data. Yet Palantir, well-accustomed by now to public scrutiny, breezed by to its long-awaited opening on the stock exchange. 
There is something captivating in the company's comfort with its tarnished reputation; its embrace of the aesthetics of surveillance and corporate power. While Facebook and Google are fervent about their goodness, Palantir has doubled down on its hostile branding, cloaking the usual glitz of Manhattan billboards with sparse, chilling imagery.
In some sense, Palantir's theatrics have been successful. The unending critical—but spellbound —media coverage of the company often describes it as "ultra-secretive" and "iconoclastic," keeping it in a fog of manufactured intrigue. It has yet to crack the Fortune 500, but it regularly tops listicles of the "most evil" companies. When your clients are the U.S. military and wildly overfunded police departments, all press is good press, and bad press is often better. 
Still, the company's CEO, Alex Karp, gripes incessantly about Palantir's reputation among the (left-leaning) public. In an open letter that accompanied Palantir's filing, Karp railed against Silicon Valley technocrats, and the controversies that have plagued his own company. "Software projects with our nation's defense and intelligence agencies, whose missions are to keep us safe, have become controversial, while companies built on advertising dollars are commonplace," he wrote. "The engineering elite of Silicon Valley may know more than most about building software. But they do not know more about how society should be organized or what justice requires."
Never mind that Palantir itself is a prominent member of that elusive Silicon Valley elite; never mind that Facebook and Amazon fare pretty poorly when it comes to public opinion of their data practices. Karp has built his own eccentric image—and his company's—on a rejection of the slippery essence of "Silicon Valley," even though Palantir was birthed from the Valley; just from its fringe, white nationalist circles. 
The distinction Karp draws in that letter is one of branding. Google has hundreds of contracts with federal agencies and the U.S. military. Google also has funneled hundreds of millions to news publishers—and that's just one piece of its eternal, extravagant PR campaign. A company with a motto that is, literally, "don't be evil," is perhaps more convincing than one that sells creepy T-shirts adorned with a logo inspired by one of the more recognizable villains in literature. (In 2015, forebodingly, Google's motto was changed to "do the right thing." But still.)
The outrage that clings to Palantir is undoubtedly justified: The company is deeply implicated in not only ICE's cruel deportation regime, but also the undue violence of U.S. "anti-terrorism" efforts abroad. Its infamy, its position on those "most evil" lists, result from years of organizing by groups like Mijente and others fighting for divestment from the military-industrial complex. 
Yet that outrage also derives, in part, from a sense of betrayal. However flimsy the idea of tech utopia was, however rejected it is now on the left, it still informs our politics. There is an expectation of moral fortitude for 21st-century tech companies that does not exist for others. The companies that sell weaponry to ICE don't see protesters at their doors, at least at anywhere near the same scale as Palantir does. Nor do the ones that provide its office space, its vehicles, its consultants. 
Or, perhaps, we expect the pretense of moral fortitude. Palantir does not offer us the same kind of soothing as Google or Microsoft. But they all work with ICE.
If the other arms of Big Tech still cling to the idea that innovation is an inherent good, that (even as they bid for more and more federal contracts) their alliance is to the people, rather than to the state, Palantir has adopted a different ideology. This is a natural result of its clientele: its products are not for the public. "We have chosen sides," Karp wrote in his letter, apparently affirming his allegiance to the U.S. government. But it's all for show: what he has really chosen is a different way to market mass surveillance.
We shouldn't be duped by that marketing, either. Rapid technological innovation was not, in and of itself, a cure for societal ills, as those northern California elites claimed at the start of the internet age—and Palantir's data analytics are not Tolkien-esque sorcery. Rather, they form part of a long history of corporate complicity in state violence. They are just one new piece of the U.S. surveillance infrastructure. The all-seeing eye, after all, is a tired trope.
—Katya
virtual past
Last weekend, I decided to take advantage of the early fall weather and go on a walk, with no destination and no purpose other than to escape my computer screen. And so I found myself wandering through the candy-colored façades of a wealthy D.C. neighborhood's row houses. Every one of them is unique, each revealing a new detail on the doorframe or the window at a closer look. But there is one feature they all have in common—the shiny, bulbous black eye of a camera brutishly perched on the roof. It's there to make sure that my gaze—anyone's gaze—doesn't turn into something more active, more invasive, or more criminal. I take the hint. After stopping to look at one house, I kept walking, putting in my headphones to listen to a podcast. 
The ability to look at a house or observe another person seems like a banal part of everyday life. But the pleasure of watching others has long been a carefully cultivated and coveted pastime. In mid-nineteenth century Europe, the act of strolling aimlessly around the city while indulging in the moments, landscapes, and vignettes that define urban life became known as flanerie, and the person who practices it, a flâneur. 
Flâneurs were aristocrats who had time to spend idly taking in the city's curiosities and beauties, to partake in the "gastronomy of the eye," in the words of Honoré de Balzac. They wandered for the sake of wandering, looking at everything while resisting involvement or consumption. Years later, as the flâneur became more of an archetype than a pure descriptor, Charles Baudelaire described him as "a prince who everywhere rejoices in his incognito," and even "a mirror as vast as the crowd itself."
To be a flâneur is to be free—free from obligations, free from destination, free from time, free from purpose. In the early days of the internet, utopian observers predicted the age of the "cyberflâneur," whose use of the web would amount to leisurely selecting a daily tasting menu of new websites to try out for the fun of it. 
But this sense of freedom can hardly describe our current beholden digital excursions, where we don't so much stroll as dart frenetically from app to app, from tab to tab, anxiously accepting cookies, watching 40 second videos, scrolling, clicking through ads. And all the while, we are being watched—not by a floating, impartial flâneur, but by a machine aimed at absorbing every piece of information about us that can create a profit. Simply looking—without purchasing something or having a purchasable part of yourself be extracted—is no longer an option. In the non-digital world, the kaleidoscope of the crowd is seen through the thousands of bulging black eyes of security cameras that populate private and public spaces alike.  
Even in the nineteenth century, the poetic vision of the carefree, dreamy, uninvolved observer was short lived. Flâneurs quickly became not just spectators but spectacles, expected to don the finest clothes and set the latest trends. Soon enough, they were brand ambassadors, advertising products sent to them by tailors or manufacturers by wearing them. 
As the century turned, and Europe's winding streets were replaced by wide boulevards lined with department stores, the new rationalized, commoditized world order dealt the flâneur a fatal blow.
—Lizz
what we're looking at
Eyes In The Sky in Rest of World: An intimate look at India's surveillance infrastructure, from Monica Jha.
A Message From The Future in The Intercept: A utopian vision of the post-coronavirus future, from Naomi Klein and Molly Crabapple. 
When You Say One Thing but Mean Your Motherboard in Logic Magazine: A video game designer writes on the bizarre inhumanity of computerized therapy.
False Grit in Art in America A look at the aesthetics of "grittiness" that sell danger as a style, not a lived social reality.
---
Thanks for reading. Want to receive HYPERREEL every week? Sign up below.